Cyril Ramaphosa, the president of South Africa, has called the floods a "catastrophe of enormous proportions" and "the biggest tragedy we have ever seen", and declared a national state of disaster on Monday 18 April 2022. In eThekwini, the municipality encompassing the city of Durban, the third largest city in the country, and surrounding areas, at least 435 people lost their lives. More than 40,000 people in total were affected by the floods and landslides which were driven by rainfall of, in parts, more than 350 mm of rain in two days.
Using published peer-reviewed methods, scientists from South Africa, the Netherlands, France, Germany, the US and the UK collaborate to assess whether and to what extent human-caused climate change altered the likelihood and intensity of extremely high 2-day rainfall in the affected area in KZN and EC.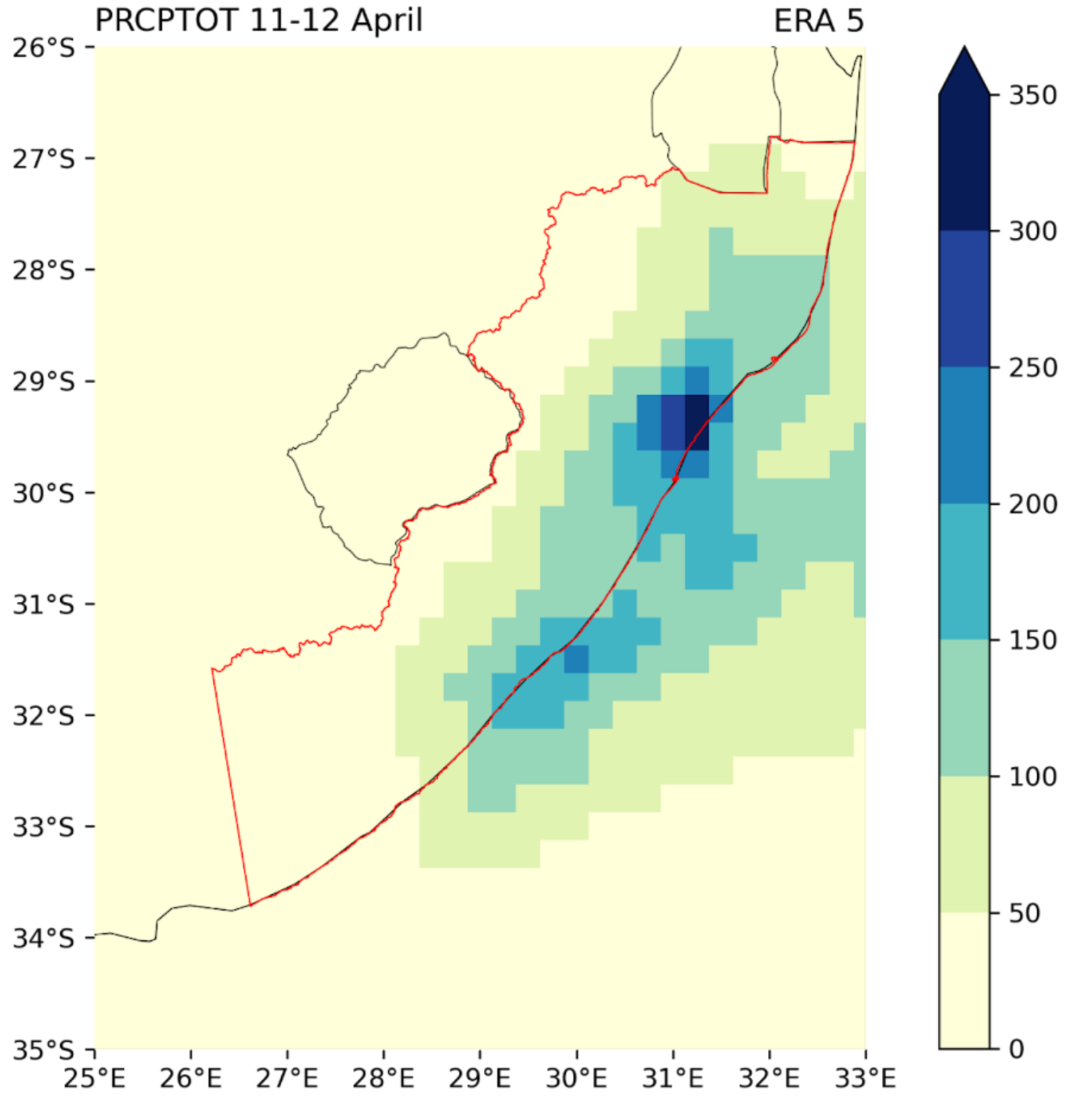 Main findings
The flooding occurred as a direct consequence of the 2-day extreme rainfall at the coast of Eastern South Africa (see fig. 1). We therefore analyse the annual maximum 2-day total rainfall in the affected area.
The South African Weather Service and eThekwini municipality issued early warnings. There are indications, however, that the warnings had limited reach and that the people who did receive them may not have known what to do based on them.
While the full profile of the impacts on human life and livelihoods has yet to be analysed, initial assessments show that the floods disproportionately affected marginalised communities, with particular devastation in informal settlements. ​Thus, the magnitude of this disaster on these groups has been exacerbated by pre-existing structural vulnerability in the region.​​
The magnitude of the event is given by maximum 2-day rainfall, averaged over the homogenous area to make observations and model output comparable. The defined event has a return time of about 20 years in today's climate in the ERA5 observational data set. An event of this magnitude would have been rarer in a 1.2C cooler world, with a return time of about 40 years.
At individual stations that had highest rainfall amounts, return times are much higher, e.g. 1 in 200 years at Mount Edgecombe.
To determine the role of climate change in these observed changes we combine observations with climate models.We conclude that greenhouse gas and aerosol emissions are (at least in part) responsible for the observed increases.
Furthermore, when taking models into account as well the changes indicate a clear increase in likelihood and intensity. We conclude that the probability of an event such as the rainfall that resulted in this disaster has approximately doubled due to human-induced climate change. The intensity of the current event has increased by 4-8%.
Heavy rainfall events are projected to increase in frequency and magnitude in the future with additional global warming levels.