The flooding and landslides reportedly occurred after heavy rainfall in some cases as early as mid April (FloodList, 2023a) and on several days in May, including the 2nd, 4th and 8th of May 2023 (FloodList, 2023b). 
Historic and current weather observations in the region are sparse, making it difficult to identify the exact dates and spatial extension of the heavy rainfall. Satellite observations and reanalysis also show very different magnitudes of rainfall around the time of the reported damages but also very different locations of the centre of maximum rainfall (see fig. 1 and fig. 2).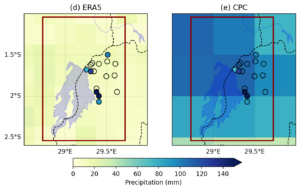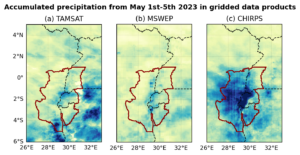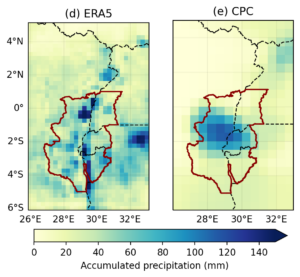 Researchers from Rwanda, the Democratic Republic of Congo, Kenya, the United States of America, the Netherlands, Germany and the United Kingdom collaborated to assess to what extent human-induced climate change altered the likelihood and intensity of the heavy rainfall that led to the flooding and landslides. Due to the data limitations it is not possible to assess the spatial or temporal extent of the rainfall that led to the flooding, thus a formal attribution study is not possible and the role of climate change cannot be assessed. Given the large humanitarian impacts as well as the importance of drivers of vulnerability there is a huge need to improve data collection and accessibility in this area, as well as research capacity to improve preparedness in a region that is projected to experience more heavy rainfall with increasing global warming. 
Main findings
We urgently need robust climate data and research in this highly vulnerable region. The scarcity and inaccessibility of meteorological data, as well as inadequate performance of climate models meant we couldn't confidently evaluate the role of climate change in the rainfall that led to flooding. This limitation applies also to information on the impact, vulnerability, and exposure of people to heavy rainfall, a critical gap that has been highlighted by numerous studies. 

The death toll and destruction from the floods in South Kivu, DRC and western Rwanda was extreme, and reflects the high vulnerability and exposure of people to flooding in this region. 

The history of conflict in the region and instability has contributed to underdevelopment and a lack of basic services and infrastructure. The combination of protracted conflict, displacement, under-development, poverty and land degradation, creates a recipe for disaster when an extreme weather event strikes, making it more difficult for people to cope and bounce back from the disaster.

The conflict and violent clashes between state and non-state groups have led to large-scale displacement in South Kivu, DRC and western Rwanda in 2023, with displaced populations being more susceptible to flood and landslide impacts due to their living conditions (e.g. temporary shelters) and precarious situation. The floods further displaced thousands of people, destroyed water, sanitation and hygiene infrastructure, damaged agricultural fields leading to increased risk of food insecurity, waterborne illnesses and protection issues after the initial recovery phase ends. 

Deforestation in order to clear land for settlements, agriculture, and mining, has resulted in widespread soil erosion around Lake Kivu, contributing to an increasing  risk of landslides. There is

a lack of capacity of the government to enforce limits or regulation on land degrading practices. 

While the DRC's mineral reserves are critical for global manufacturing and the transition to a low carbon economy and its forests act as a key carbon sink for the world's carbon polluters, the country continues to suffer from the impacts of extreme weather which are amplified by mining activities that contribute to land and water degradation, labour abuses, and conflict.

We examined three different combinations of spatial and temporal extent to look at heavy rainfall events in the region of the floods to see whether there are trends in either of these in the different available data products. In different datasets there are trends in seasonal and short term heavy rain in both directions (increases and decreases), as well as data showing no trend. 

Climate models show no significant trends in heavy precipitation over the region since the preindustrial climate, but an increase in short term heavy rainfall for a 0.8C warmer world (2C global warming). However, this is no indication that there is no trend, as the uncertainty is very high. 

The increase in heavy precipitation with future warming is in line with projections from the IPCC over the whole of central and eastern Africa, which also show an increase in heavy rainfall.

While the scarcity of data does not allow us to draw any conclusions on the role of climate change in the floods today, the potential for a further increase in heavy rainfall in this flood and landslide prone area highlights an urgent need to reduce vulnerability 

Better observations, improved access to meteorological data and more research are urgently needed in the region to improve early warning systems.